Barefoot Runners Society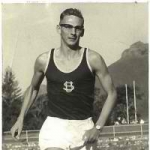 South Africa Celebrates 50th Anniversary of Its First Sub-4 Minute Mile
Or for a better title:
50 years ago this man became the first athlete to run a sub-4 minute mile in bare feet
By Paul Beales
November 15, 2014
De Villiers Lamprecht clocks 3:59.7 on November 13, 1964; 16th man overall
By Alec Basson, Stellenbosch University
It has been 50 years since former Matie athlete
De Villiers Lamprecht
on November 13, 1964 became the first...
We need your help
We still have a number of chapters around the world needing Chapter Presidents.
The role of President includes promoting the chapter and barefoot running in general, keeping the chapter active and members interested, posting the giveaway contests that we share occasionally, posting any race reports or other articles of interest as you learn of them and asking others in your chapter to do the same, and encouraging members to add themselves to the BRS Member Map. If possible, you can also try organising Chapter Runs in your local area, or encouraging members to meet up and run together; posting these runs on local online racing calendars, or if you have experience, you could maybe offer free lessons, workshops, clinics etc?
Some of the chapters also have Facebook Pages which need...
Healthy Running is Fun and Sustainable Running — Love Affair with 3 Marathons
By Dr. Mark Cucuzzella
After enjoying another Marine Corps Marathon (47th place in 2:49 age 48) curiosity led to digging into past races that stretch back several decades. So into the archives I plunged to see how many MCMs (I thought it was 22) and what the times were. So I contacted my friend and Marine Corps Marathon historian George Banker (himself a 31-time MCM finisher, a member of the MCM Hall of Fame, and author of the book "History of the Marine Corps Marathon"). At one time George had sent me a picture of his basement which was filled with old newspapers, magazines, and photos of running history.
I am grateful to people like George who save things. I have moved too many times in my career to gather things. Not...
Barefoot Run Around the Ponds in Nampa, Idaho
By Dirty Bird
It was a great adventure being around others running on pure skin. Being able to see their stride and flow of barefoot running from other well seasoned runners was a great re-inforcer that I was on the right track.
Wilson ponds turned out to be a great place to run. The scenery was sensational. Lots of people and nature out enjoying the wonderful weather. Oddly, I never did catch a single person reeling in a fish, hmmmm. The pavement, all though smooth, was a lot courser than I was used to running on for long periods of time. Mother nature also managed to toss in some flavor of her own with these wonderful trees that loved to drop pea sized seeds on the path. One was very lucky to be able to get through those obstacles without having to brush the...
Online now: 70 (members: 6, guests: 64)
Forum Statistics
Discussions:

13,775
Messages:

150,299
Members:

6,450
User Record:

241
Latest Member: